To Dare Mighty Things: The Life of Theodore Roosevelt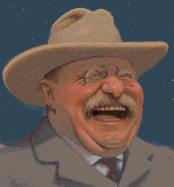 As she did with her succinct, lyrical picture-book biographies of Dr. Martin Luther King, Jr., and Eleanor Roosevelt (Martin's Big Words; Eleanor, Quiet No More), Doreen Rappaport here pays tribute to the legacy of Teddy Roosevelt (1858-1919), the 26th president of the United States.
Children will be inspired by the story of how "Teedie" grew from an asthmatic child prone to fevers into a strong leader. Rappaport selects just the right quote (taken from Roosevelt's autobiography, speeches and letters) at each crossroads of the man's life to convey his love of books, writing, family and country. She draws a direct line from the sickly child who read profusely (about subjects ranging from hippopotamuses to Valley Forge soldiers) to the man who spearheaded a conservation movement and led the Rough Riders into the Spanish Civil War.
Artist C.F. Payne conveys Roosevelt's seriousness of purpose, as well as his sense of humor. The artist creates an especially poignant image of Roosevelt as grief-stricken widower, finding solace in the Dakota Territory. As president, Roosevelt established anti-trust laws, won the 1906 Nobel Peace Prize for settling the war between Russia and Japan, and took the lead in the building of the Panama Canal. An excellent timeline, thorough bibliography and suggestions for further reading allow young people to discover more about this extraordinary man, a model for our times: "I would rather go out of politics feeling that I had done right than stay, knowing I have acted as I ought not to," he said. --Jennifer M. Brown, children's editor, Shelf Awareness