Unruly Catholic Women Writers: Creative Responses to Catholicism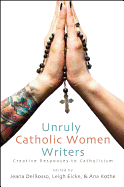 The trio of editors who have collected the 55 creative essays, short stories, dramatic works and poems found in Unruly Catholic Women directly confront the Church's doctrine, addressing issues of gender and religion, social justice and equality that remain central to the lives of many Catholic women today.
The anthology is structured in three sections subtitled to match the traditional mysteries of the Holy Rosary--the contemplative prayer associated with Mary, the Blessed Mother of God, for whom many Catholics hold a special affinity and devotion. Section one, "The Joyful Mysteries," highlights themes pertaining to contemporary responses toward motherhood, childbearing and childrearing, as in Renee Bondy's essay about how the nuns of her childhood inspired her to become a "feisty feminist." Pain and death, and the emotions of women who feel alienated from the church due to divorce or sexuality, are the focus of "The Sorrowful Mysteries." Dolores DeLuise offers a meditation on sexuality for Catholic clergy. Mary Rice's short, moving poem, "Resurrection," delving into the role of women and the miracle of the empty tomb, is one of several pieces in "The Glorious Mysteries" which examine the ways in which sacraments and rituals empower female Catholics despite the limitations on the role of women in the Church.
Conveying a range of feelings from anger to appreciation, the confessional expressions and recollections gathered together in Unruly Catholic Women offer a versatile, entirely feminist view of the Roman Catholic experience. --Kathleen Gerard, blogger at Reading Between the Lines