Beethoven: The Man Revealed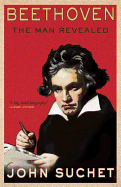 Like Fielding's Tom Jones, John Suchet's Beethoven: The Man Revealed is a picaresque ramble complete with "spoiler" chapter sub-headings such as "Beethoven holds the most important concert of his life, and is offered a job"--except, of course, his subject is a real-life genius, not a fictional rake. Suchet is a retired British news anchor whose lifelong passion for everything Beethoven has led to several books, including the 1,500-page The Last Master. In this more manageable biography, Suchet distills his scholarship in a way that captures both Beethoven's prodigious talent and his struggles with family, money, love, health and fame.

Suchet's conversational approach allows him to present the known details of Beethoven's life while speculating effectively on the unknown. For example, he re-creates Beethoven's meeting with Goethe, which prompted the latter to describe the composer as "an utterly untamed personality, not necessarily wrong if he regards the world as detestable, but certainly not making it any more pleasant either for himself or others by thinking so." Suchet even proclaims "Für Elise" "quite possibly the single best-known piece of piano music ever written by anyone" based on its ranking as the world's most downloaded ringtone.

When he describes the approaching end of Beethoven's difficult life in the aptly titled chapter "Frightening the Oxen," we see Beethoven in the Gneixendorf countryside "fraught, tense, in ill-health, in pain, yet... waving his arms, singing, and shouting [as] musical ideas were forming in his mind"--just as we want to imagine the last months of an artistic genius. --Bruce Jacobs, founding partner, Watermark Books & Cafe, Wichita, Kan.