My Venice and Other Essays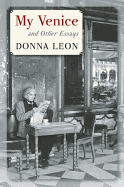 Well known as the author of the Commissario Guido Brunetti mystery novels, American Donna Leon has lived in Venice for 30 years and knows its vagaries and delights in and out.

The essays in My Venice are filled with her pointed observations, humor and insight. Her rant on Saudi Arabia--she taught there for a year--is filled with trenchant comments about the country's attitude toward women, who are seen as inferior in every way and treated as such. She then repeats that essay's mantra, ironically: "But, darlings, it's got lovely beaches, and the local people are so friendly."

She describes Venice as "a provincial town of fewer than sixty thousand inhabitants where one of the chief sources of entertainment is gossip and where, consequently, there are no secrets." This reality, she's concluded, is a refuge from the nonsense of the Internet and "communicating" with people we will never see.

In the last section, there are two very funny set pieces about her war with--and against--e-mail and an afternoon with the Barbara Vine side of Ruth Rendell (the dark side). Over lunch, they debate various delightful ways of committing murder, wherein Vine says: "I have to admit I have a great weakness for strangling. There's something so tactile and personal about it." The essay ends with: "Tell me, Ruth, before we order dessert, have you ever watched an autopsy?"

Leon's great intelligence and wit come through in every one of these essays, whether concerned with garbage collection or music. In reading these first-person pieces, it is clear that the irresistible Commissario Brunetti is channeling Donna Leon. --Valerie Ryan, Cannon Beach Book Company, Ore.