The Sellout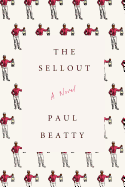 The protagonists of Paul Beatty's first two novels, White Boy Shuffle and Slumberland, are well-read and well-schooled in street vernacular and hip music, with a sardonic skepticism about what it means to be a black man in the modern world. The Sellout takes this up a level; it's an over-the-top fable of a young black man street-named Bonbon who farms an urban tract in South Los Angeles.

Bonbon, raised by an academic sociologist with a penchant for using his son for behavioral experiments, receives a $2 million wrongful death settlement when his father is accidentally shot by the LAPD: "He and I bought the farm on the same day." With his new wealth and land, Bonbon develops his farm à la George Washington Carver, finding his own peanut "in the plant life that had the most cultural relevance to me--watermelon and weed."

Beatty is funny as hell and offers a serious consideration of race through a relentless parade of stereotypes skewering blacks, whites, Mexicans, celebrities, Africans, even autistic kids. Behind the humor, however, Beatty asks important questions about racism and identity. The Sellout is a knock-out punch to everything all races smugly accept as our appropriate roles in a diverse world. It's always more complicated than we think. --Bruce Jacobs, founding partner, Watermark Books & Cafe, Wichita, Kan.