This Old Man: All in Pieces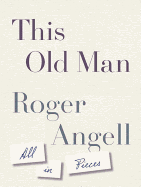 Roger Angell's gentle wit and insight permeate brief vignettes in This Old Man. He reviews his stepfather E.B. White's One Man's Meat, a book that "always had the heft, the light usefulness, of a bushel basket, carrying a raking of daily or seasonal notions." His membership in "the greatest generation" somewhat embarrasses him, with its cavalier acceptance of the firebombing of Japan that annihilated close to a million civilians: "Killing more civilians than the other side is what war makes you do, but reaching the decision and then acting on it doesn't make you good or great. It makes you tired and it keeps you awake at night, still crazy after all these years."

Angell's collection ends with "This Old Man," from the New Yorker. He's still got some spunk: "I'm ninety-three, and I'm feeling great. Well, pretty great, unless I've forgotten to take a couple of Tylenols in the past four or five hours... the downside of great age is the room it provides for rotten news. Living long means enough already." Let's hope Angell hasn't really had enough already. He's a national treasure, who appreciates the rarity of an unassisted triple play and laments instant replay reviews because "umps should always be right, even when they aren't." --Bruce Jacobs, founding partner, Watermark Books & Cafe, Wichita, Kan.