The 6:41 to Paris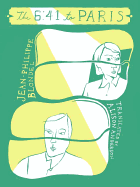 The 6:41 to Paris chronicles a train ride in which two people seated next to each other by happenstance recognize one another immediately. The story is told alternately by Cécile and Philippe, both in their 40s, who haven't seen each other in some 27 years. They once dated for three or four months. They shared one painful, embarrassing, cruel week in London, a youthful dating disaster. They are both desperately trying to pretend they don't know each other.

Once a golden boy, Philippe has become flabby and amounts to nothing more than a TV and VCR salesman in a superstore. Once plain and forgettable, Cécile has become a very attractive workaholic who has scarcely missed a day of work in 20 years and founded a hugely successful Parisian shop selling organic beauty products.

Will they talk? Will they acknowledge each other? Jean-Philippe Blondel has created a realistic and delightfully familiar dilemma as a springboard for his bittersweet comedy about two people mildly dissatisfied with their lives, who share an unhealed moment in their pasts. It's told almost entirely in thoughts. Their two intertwined interior monologues are braided through the narrative, interrupted periodically by the few words they actually exchange over an accidental bump or a dropped pen.

Their poignant attempts to reconcile themselves to their past mistakes, and their struggle to come to terms with their awkward forced proximity, create a compelling and touching suspense throughout this delicate, tightly controlled little anti-romance. --Nick DiMartino, Nick's Picks, University Book Store, Seattle, Wash.