Concussion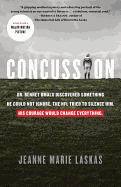 Concussion is the story of former Pittsburgh Steeler "Iron Mike" Webster's brain and the Nigerian-born forensic pathologist Bennet Omalu, who studied it to discover the cause of Webster's post-football dementia and death at age 50. After graduating from a top Nigerian medical school, Omalu immigrated to the U.S. in 1994, where he worked his way through a half-dozen additional degrees before settling on a neuropathology sub-specialty and working with Pittsburgh's county coroner.

When Mike Webster's corpse was randomly assigned to Omalu's autopsy table, Omalu's relentless curiosity about complicated brain damage, along with dogged persistence, led to his breakthrough insight that Webster's death was caused by repeated concussions from playing football--a published scientific conclusion that brought the weight of the NFL down on him.

GQ correspondent Jeanne Marie Laskas (Hidden America) is the ideal author for this deep-dive into a messy David and Goliath, black immigrant–versus–white power story of subterfuge, lawyering, politics and seasonal Sunday afternoon obsession. With a slam-bam, boffo style buttressed by strong research and interviews, Laskas doesn't miss a thing. She graphically captures Webster's job after the snap to "explode into other guys, head first"; and explains the futility of a helmet when "the brain sloshing around inside that skull was going to bash into the skull walls no matter how much padding you nestled the head in." Concussion is such a well-told story that it is the basis for a forthcoming film starring Will Smith as Bennet Omalu. Smith will have his work cut out to bring Omalu's story to life better than Laskas already has. --Bruce Jacobs, founding partner, Watermark Books & Cafe, Wichita, Kan.