The Only Child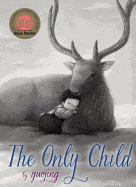 In this weighty, wordless book of exquisite black-and-white pencil drawings by Chinese illustrator Guojing, a cherubic young girl from the city is left alone in the apartment when her parents go off to work.

After staring at the closed door for a while, she busies herself playing dress-up, reading and gazing out at the snowy city. Enough. She dons a snow suit, grabs an umbrella and heads outside. The passage of time marches along in comic-strip panels, pausing here and there in glorious full-bleed spreads. The little girl amuses herself by people-watching and making funny tracks in the snow, and eventually boards bus #25. The world zooms by, she falls asleep, and when she wakes up, the bus is empty. She jumps off somewhere in the forest. (At just this moment, her mother back home finds the note she left, "Gone to visit grandma." Her parents rush to find her.)

Meanwhile, the girl, now frightened, spots a large-antlered stag, which leads her safely into a lake, then up a staircase of clouds, where she has a giddy time bouncing and playing with her adorable new otter-like cloud companions... until they leave her, too.
In an introductory note, Guojing writes, "The story in this book is fantasy, but it reflects the very real feelings of isolation and loneliness I experienced growing up in the 1980s under the one-child policy in China." The loneliness of the little girl is indeed apparent, but her ebullient nature is, too--and this emotional power, combined with the wonder of a cloud adventure and fuzzy animal friends, is sure to mesmerize young readers. --Karin Snelson, children's & YA editor, Shelf Awareness