Drawing Blood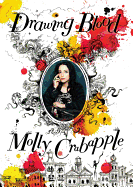 If anyone has visually captured New York City's post-9/11 zeitgeist, it is artist, illustrator, ex-Suicide Girl, burlesque queen and political activist Molly Crabapple (née Jennifer Caban, which she legally changed to the nickname inspired by her "sour disposition"). Raised in Far Rockaway in Queens, N.Y., by her artist mother, Crabapple committed to art at age four. At 17, she was already on her way to Paris, alone, to find her idol Toulouse Lautrec's Moulin Rouge. Splurging on a leather sketchbook, she drew everything she saw. When she returned to New York in August of 2001, she had a portfolio of work and a calling. A month later the city was no longer the city she knew.

Drawing Blood chronicles how Crabapple survived poverty and insecurity to become a successful artist and illustrator. She lounged provocatively for sleazy amateur photographers. She posted nude photos on the semi-pornographic Suicide Girls website. She joined burlesque troupes. She wiggled her way into the notorious downtown club the Box, which became "My muse. My Moulin Rouge." And through the hustling and degradation, she kept drawing--including up-close scenes of the Occupy Movement in Zuccotti Park and, with increasing political activism, visits to Guantanamo Bay and labor camps in Abu Dhabi.

Candid, earthy, romantic, funny, omnivorous, Drawing Blood is the story of a young artist on the make in a New York City. Illustrated with many of Crabapple's drawings, Drawing Blood is a portrait of a tough woman winning (finally) in a tough profession in the toughest of cities. --Bruce Jacobs, founding partner, Watermark Books & Cafe, Wichita, Kan.