On Cats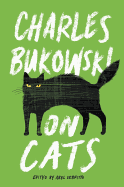 Had there been a YouTube when Charles Bukowski was writing at his peak and sheltering a stream of stray cats, his musings on cat behavior and personality might have been lost in the endless cat video galaxy. Instead, he scrawled short verse and prose poems honoring whichever felines happened to find his door. He was a sucker for cats--almost as much as for whiskey, women and writing. On Cats is the second of a trilogy of selected Bukowski work (after On Writing and in anticipation of 2016's On Love), published on the anniversary of what would have been his 95th year. The poems cover dozens of his cats from the 1950s until his death in 1994, but they usually come back to the same observation: cats are remarkably resilient, self-sufficient and indifferent to people--the same foundation on which Bukowski built his writing career. As he writes in his later years, "They sleep, baby.... They know there's nothing to get excited about. The next meal. And a little something to kill now and then."

In true Bukowski form, his admiration for cats is presented with crude candor and plenty of raunch (one poem is titled "Looking at the Cat's Balls"). He frequently rescues his cats from fights and unknown nocturnal accidents. When the vet bills eat into his drinking money, he rants: " 'Jesus,' I told the vet, 'this is a ten-year-old/ de-balled alley cat. I can get a dozen of these for/ nothing.' " Aware that his cat poems are more amusement than literature, he concludes "My Cat, the Writer" with this self-deprecating insight:

listen, relax, you've read
worse
poems than
this...

and I've written
them."

--Bruce Jacobs, founding partner, Watermark Books & Cafe, Wichita, Kan.