Killers of the Flower Moon: The Osage Murders and the Birth of the FBI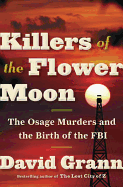 The Osage Nation once roamed the Great Plains, from Missouri to the Rockies. As the buffalo population died off, their dwindling numbers forced them to negotiate with the United States government to live in the no-man's land of northeast Oklahoma. The one bright spot? The tribe's savvy lawyer who secured mineral rights in perpetuity for the original 2,000 registered members on the Osage Roll. When oil was discovered outside rundown Pawhuska in 1894, their world was upended. By the Roaring '20s, "the Osage were considered the wealthiest per capita people in the world." Then, mysteriously and systematically, tribe members began to die and the Osage "Reign of Terror" had begun.

Killers of the Flower Moon is the sterling history of this forgotten drama that precipitated the first successful prosecution by J. Edgar Hoover's fledgling Federal Bureau of Investigation. In the seasoned hands of historian David Grann (The Lost City of Z), it is a thoroughly researched narrative, as colorful as many of the characters and as well paced as a good true-crime thriller--years of primary source material turned into a storytelling wonder. --Bruce Jacobs, founding partner, Watermark Books & Cafe, Wichita, Kan.