Spineless: The Science of Jellyfish and the Art of Growing a Backbone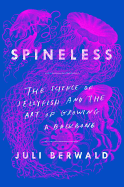 Spineless: The Science of Jellyfish and the Art of Growing a Backbone puts the spotlight on an understudied and generally underappreciated marine animal, showing how its fate may be tied to manmade changes in the natural world. Spineless is also the story of Juli Berwald, an ocean science Ph.D., reigniting her passion for science and nature through her immersion in the world of jellyfish. Berwald puts herself in the narrative, bringing the reader along as she prepares and cooks jellyfish, raises specimens in her dining room, swims near an enormous bloom off an Israeli beach and much more. Berwald excels at depicting the wonder and appreciation she has gained for the strange, gelatinous creatures and the ocean that sustains them.

Her interest in jellyfish was prompted by the appearance across the world of massive aggregations known as blooms. In some cases, the jellyfish were so numerous that they dominated the ecosystem and transformed productive fisheries into "a sea of goo." Jellyfish and people are increasingly getting in each other's way. Masses of the aquatic animal have clogged power plants, desalination plants and even a nuclear-powered aircraft carrier. Jellyfish can also ruin a trip to the beach: the National Science Foundation estimates that there are 150 million stings each year. The creatures are fascinating in part because there's so much more to find out about them. In Spineless, Berwald demonstrates that our oceans represent a scientific frontier at least as exciting and promising as space, and posits jellyfish as a prime candidate for study and appreciation. --Hank Stephenson, bookseller, Flyleaf Books, Chapel Hill, N.C.