Spring Garden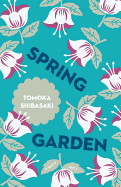 Spring Garden by Tomoka Shibasaki looks at loneliness and loss with uncommon detail and understated force. Taro, a passive, divorced man who lives in a Tokyo apartment building slated to be torn down, becomes acquainted with Nishi, a young woman in the same building who is fascinated by a house in their neighborhood. This sky-blue house, larger than most and with a private garden, has been documented in an obscure book of photography titled Spring Garden. The ethereal photos of the house and its former celebrity inhabitants preoccupy Nishi and, soon, Taro. Although the current occupants are distressingly conventional, the house symbolizes a past when urban living was not as isolated and traditional values were carefully cultivated. Nishi says of Tokyo life, "things get better so quickly but then they deteriorate just as fast."

Shibasaki's characters stay at arm's length from each other, and their transactional relationships mean they never connect on more than a surface level. Numazu, Taro's coworker, is "just voicing the thoughts passing through his mind, and not looking for an answer." The perspective of an omniscient narrator abruptly changes toward the end, and Taro's disaffection is seen from a more compassionate vantage point.

Spring Garden won the 2014 Akutagawa Prize in Japan. Polly Barton, winner of the Kyoko Selden Memorial Translation Prize, makes sure that Shibasaki's minimalist language comes across with poetic sensibility. Every word matters in this unflinching and quietly powerful novella. --Cindy Pauldine, bookseller, the river's end bookstore, Oswego, N.Y.