The Last Man in Europe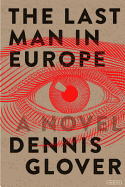 1984 is George Orwell's masterpiece and is considered one of the great novels of the 20th century. Dennis Glover's The Last Man in Europe fictionalizes the creation of Orwell's seminal work, depicting the small moments throughout the writer's life that eventually culminated in the book's genesis and completion. Orwell in many ways worked himself to death writing 1984, and Glover's fabulous book shows why.

Beginning with Orwell's time as a poor clerk in a bookstore, The Last Man in Europe tracks him as he becomes radicalized, eventually going to fight in the Spanish Civil War. He then loses his faith in political structures during the Battle of Britain and Stalinist purges in Russia. Never entirely a cynic, Orwell instead develops a healthy skepticism for utopian thinking, using his pen to ravage those worthy of criticism. Glover is at his best when he's depicting the moments of Orwell's political epiphany, giving the man's positions and concerns due time so that the reader understands just how complex his writing was. Toward the end of the book, as 1984 is becoming a bestseller, Orwell, nearly destroyed by a decades-long battle with tuberculosis, uses what little strength he has left to pen a clarification to critics, arguing that he's not picking any particular political side in the novel. Because Glover has brilliantly laid the groundwork for Orwell's choices by taking the reader through his earlier decisions, moments like these feel all the more pregnant with importance. The Last Man in Europe demonstrates that Orwell the man was just as worthy of praise as the works he created. --Noah Cruickshank, adult engagement manager, the Field Museum, Chicago, Ill.