Christmas in July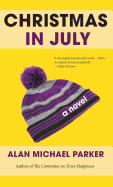 With a title like Christmas in July, readers might take Alan Michael Parker's book to be cheery. Instead, this novel-in-stories is about the small moments of human interaction that make up our lives, and how easily those moments can be ripped from us. By the end, readers may be taking stock of their days, those which came before and those they have left.

Thirteen-year-old Beatrice Danzig is dying of cancer. Forced to live with her aunt in Saxon Hills, Md., as she waits out the rest of her life, she changes her name to Christmas and begins to wander from home. These 10 short stories focus, for the most part, on the people she meets in her journeys. She might spend only moments with them, or days, but Parker shows how just a little bit of Christmas has an effect on the people she meets.

The girl is so far along in her disease that everyone who meets her knows immediately that she's dying. Parker uses that knowledge as a way to start digging into the psyche of his characters. Christmas is a lens for the rest of the world, but luckily a warped and skewed one. This book isn't a series of morality tales, where the specter of death in the guise of a 13-year-old girl brings people to righteousness. Instead, it brilliantly shows how messed up we all are, dying or not. --Noah Cruickshank, adult engagement manager, the Field Museum, Chicago, Ill.