The Other Side of Everything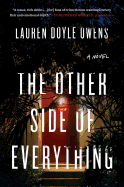 Set in sleepy Seven Springs just south of Fort Lauderdale during the Great Recession, Lauren Doyle Owens's first novel, The Other Side of Everything, is a small-town domestic drama masquerading as a murder mystery. It's told through the eyes of its three principal characters. Lonely old Bernard is a widower haunted by the ghosts of his wife who died of cancer and a lover dead from suicide. Fifteen-year-old Maddie waits tables after school trying to hold together her family after her mother abandoned them. An art school dropout and cancer survivor, Amy is separated from a husband who can't deal with her surgical disfigurement and depression. When someone starts brutally to kill neighborhood elderly women, the checkered histories and secrets of the town's migrant retirees and local townies surface in spades.

A resident Floridian from Maryland, Owens captures the false bonhomie of the state's many codgers ("These are the best years, aren't they? This is what we did all that other stuff for... whiskey sours for breakfast...! Internet porn!") as well as the teen angst of a girl compulsively slicing her thigh with a Swiss Army knife ("caught in the undertow of unbearable grief... [but] her leg throbbed so badly that none of it mattered"). As Amy tries to overcome the trauma of her post-cancer marital dissolution, she recalls that "one moment, they were at the beginning of everything... the next, they were at the edge of a cliff." As its title suggests, The Other Side of Everything is a penetrating look behind the faces we present to the world. --Bruce Jacobs, founding partner, Watermark Books & Cafe, Wichita, Kan.