December 2018 Book of the Month
Each month our avid readers choose one new title that needs to be shared, a book that lingered with them weeks after they turned the last page. Because we want to share this with you and your friends, you save 25% when you buy this title during its featured month!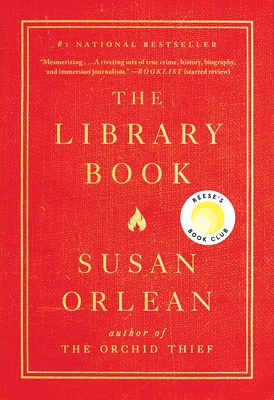 December Title: The Library Book
by Susan Orlean
The Library Book chronicles the still unsolved L.A. Public Library fire and its aftermath to showcase the larger, crucial role that libraries play in our lives. Award-winning New Yorker reporter and New York Times bestselling author Susan Orlean reexamines the case of Harry Peak, the blond-haired actor long suspected of setting fire to the LAPL more than thirty years ago–even burning a book herself as part of her research! Using the LAPL as a vantage point, Orlean delves into the history and evolution of libraries across the country.
From their humble beginnings as a metropolitan charitable initiative, to their current status as a cornerstone of national identity, Orlean's on-the-ground reporting brings each library department to life while reflecting on her own experience of the libraries. More than just shelves of books, Orlean reveals how these institutions remain an essential part of the heart, mind, and soul of our country.
Want to meet your (new) favorite author? University Book Store hosts hundreds of reading and signing events every year! Check out our events page or sign up for our e-newsletter!