Anyone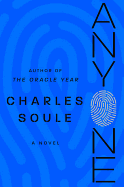 A scientist's experiment gone wrong leads to a technology, called "flash," that changes the world. Charles Soule (The Oracle Year) gives this conventional sci-fi theme a rollicking 21st-century update in Anyone. While researching a cure for Alzheimer's disease, scientist Gabby White inadvertently discovers a process that allows one person's consciousness to take over the body of another. Years later, an enigmatic woman with a motive to subvert the technology is running for her life.
When she discovers flash in 2019, Gabby is under contract to a shady venture capitalist who owns her discovery. Its implications are so profound that she tries, with tragic results, to keep the discovery from him. "I'm telling you, the potential for abuse is horrible," she tells her husband as she plans to hide her work.
Twenty-five years later, when flash is ubiquitous, Annami, a brilliant technology worker with a hidden past, is planning to undermine the owner of the flash network, NeOnet Global. Their motto is "Be anyone with Anyone." Annami is "one of the few people who knew the truth behind the lie of the world, and the only one who seemed to want to make it right." When the money she needs to complete her plan is stolen, her fury propels her to take revenge on the perpetrators even as she continues the scheme to cripple NeOnet. Annami, both detective and enforcer, could be the next futuristic female heroine. Fans of N.K. Jemisin will devour this mind-bending novel. --Cindy Pauldine, bookseller, the river's end bookstore, Oswego, N.Y.