Consider This: Moments in My Writing Life After Which Everything Was Different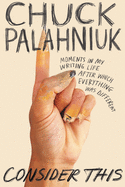 In the world of cult novelist Chuck Palahniuk, the success of a short story isn't always measured in sales figures. In some cases, a story's worth can instead be derived by how many people fainted during the author's live reading of the work. The story in question, "Guts," serves as one of many examples Palahniuk pulls from his own experience in this enlightening hybrid of memoir and writing insights.
Though that particular Palahniuk story did indeed lead to numerous instances of audience members losing consciousness when he started reading it aloud on tour in 2004, the author makes it clear that his interest lies not in shock but in subversion. Thus, there is no expectation that readers here be privy to the more intimate details of Palahniuk's work, although he does reference it often. Instead, many of the best lessons contained within Consider This derive from tips Palahniuk himself learned as a member of a writing workshop led by the writer Tom Spanbauer. To Spanbauer's credit, his workshop has launched a number of writing careers, including that of Palahniuk, who continues to meet weekly with a writing group.
Tackling subjects ranging from narrative authority to the passage of time, the Fight Club author references not only his own work but that of Nora Ephron, Margaret Mitchell and many others to great effect as he unflinchingly mines his past failures in hopes of steering readers in a different direction. Caustic and charming, Consider This is a worthy writing bible for even the most agnostic of writers. --Zack Ruskin, freelance reviewer