Hill Women: Finding Family and a Way Forward in the Appalachian Mountains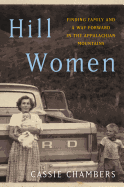 More a hopeful, somewhat guarded memoir than a hillbilly elegy, the debut book from crusading Kentucky lawyer Cassie Chambers charts, with wonkish warmth, its author's journey from the hollers and generational poverty of Owsley County, Ky., to the Ivy League--and then back again.
Chambers balances out her personal story with vivid portraiture of her Appalachian kin, especially her mother, the first of the family to go to college; her grandmother, who got married off at 15 to a 32-year-old man; and the hardy aunt who single-handedly keeps a family farm going until her 40s and then winds up working the register at the Family Dollar. Their voices ring out, frank and earthy, touched with King James but practical above all else: Chambers's Aunt Ruth declares to the man who comes to court her, "I just want you to know that if you ever put hands on me in anger, I'll have to kill you."
In its first half, as Chambers recounts breaking away from her home, Hill Women touches lightly on issues of mountain poverty and access to medical care. The second half finds the Harvard Law-trained Chambers returning to Kentucky to do legal work with domestic violence survivors. She faces the region's challenges with heartbreaking accounts of opioid addiction and a legal system less concerned with justice than it is with wringing money out of the broke and desperate. Like the hill women before her, Chambers is pragmatic, fighting for achievable change in a punishing system. --Alan Scherstuhl, freelance writer and editor