How the Dead Speak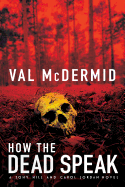 In Val McDermid's riveting How the Dead Speak, a British convent-turned-orphanage for girls shuts down, and developers make a ghastly discovery while bulldozing the site: skeletal remains of 40 children.
The nuns and priest in charge of the orphanage have all been reassigned by the Catholic Church. A groundskeeper for the property claims he dug holes when the nuns told him to, nothing more.
Then remains of eight more victims are found under a flower bed on the same grounds, but these are fresher burials--and adult bodies. The groundskeeper lawyers up, the nuns deny everything, and the priest refuses to cooperate.
How the Dead Speak is part of the Tony Hill and Carol Jordan series, but this installment can be read as a gripping standalone. Fans will recall from the previous novel, Insidious Intent, that Hill and Jordan were removed from ReMIT, the Regional Major Incident Team. Though sidelined, both Hill and Jordan have subplots connected to the case.
Detective Chief Inspector Rutherford takes command of the team, but his methods create division. Local law enforcement seizes on ReMIT's disarray by taking charge of the orphanage crime scene. ReMIT must wrest control of the case while grappling with the frustrating secrecy of the Catholic Church. Luckily for the team, its master interviewer, DI Paula McIntyre, and unit tech specialist Detective Constable Stacey Chen are willing to go rogue with their own sharp instincts to catch the killer or killers. The team rallies behind these two and finally becomes a cohesive unit. McDermid gives a macabre storyline an unexpectedly emotional outcome. --Paul Dinh-McCrillis, freelance reviewer