Interior Chinatown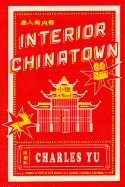 This novel in screenplay format from Taiwanese American author Charles Yu (How to Live Safely in a Science Fictional Universe; Sorry Please Thank You) is a caustic, absurd and endearing exploration of Asian American stereotypes, police procedurals and the immigrant experience.
Yu pulls readers into the spotlight by narrating Willis's inner life in second person, asking the audience to imagine a life as "part of the American show, black and white, except they have no part for yellow." Readers will often find themselves unable to tell reality from television, which is Yu's point in a nutshell. Your name is Willis Wu, but the rest of the world sees you only as Generic Asian Man, if they see you at all. You work as an extra on a police procedural called Black and White, which films in a Chinese restaurant and stars a black actor and white actress. You've worked your way up the ladder from Background Oriental Male and intend to attain the highest on-screen rank for an Asian male: Kung Fu Guy.
As Willis struggles to reach special guest stardom, he must also navigate his relationship with his aging parents. His father, once a Mysterious Kung Fu Master, has dwindled into a confused elderly man. Willis's mother wants more for her son than the role of Kung Fu Guy, but Willis can't see through his societal conditioning to understand her.
Leading with laughs but sneaking in a dose of wrenching irony, Yu's format-bending, deeply felt examination of the American dream is an exercise in encouraged empathy that will hold readers' hearts right up to its brilliant finale. --Jaclyn Fulwood, blogger at Infinite Reads