The Book of Ichigo Ichie: The Art of Making the Most of Every Moment, the Japanese Way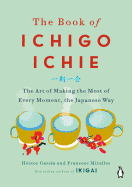 Taking the time to notice simple moments amid busy lives often feels indulgent and impossible. In The Book of Ichigo Ichie, Héctor García and Francesc Miralles (co-authors of Ikigai: The Japanese Secret to a Long and Happy Life) show how the simple Japanese concept of recognizing the impermanence of our lives can lead to a deeper appreciation of our present.
Pronounced "itchy-GO itchy-A," the definition of ichigo ichie is imprecise. The term attempts to capture the understanding that "what we are experiencing right now will never happen again and therefore, we must value each moment like a beautiful treasure." Dating back to 1588 when first seen in writings by the tea master Yamanoue Sōji, ichigo ichie is a tenet of Zen Buddhism with relevance for the 21st century.
"Ichigo ichie depends on our ability to listen, see, touch, smell, and savor every moment, doing only one thing at a time, and putting our heart and soul into it, as if it were the last thing that we were going to experience on Earth."
Emotions such as anger, sadness and fear keep people stuck in the past and unable to recognize the beauty in the everyday. To help readers cultivate more moments of authentic experience and connection, García and Miralles use Japanese stories, legends and culture to illustrate the concept of ichigo ichie alongside suggestions for mindfulness techniques and easy to implement strategies to reduce distraction and "recover the power of attention." --Melissa Firman, writer and editor at melissafirman.com