Ultimate Veg: Easy & Delicious Meals for Everyone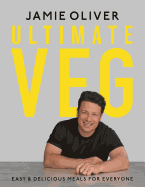 Prolific cookbook writer and longtime TV personality Jamie Oliver has built a food empire on approachable, accessible cooking. Ultimate Veg: Easy & Delicious Meals for Everyone is Oliver's 23rd cookbook, eight years in the making and expansive in its collection of creative, healthy vegetarian recipes.
Novices and confident home cooks will enjoy Oliver's concise, clear recipes. He organizes Ultimate Veg by both recipe type and time of day, with sections like Curries & Stews; Pies, Parcels & Bakes; and Friday Night Nibbles. Selected standouts include Scruffy Eggplant Lasagne, Angry Pasta Fagioli and Speedy Egg-Fried Rice--all uncomplicated, delicious and aptly named. Reverse Puff Pastry Pizza is simple enough for dinner on a weeknight but impressive enough for a party--as are the smashing Rogan Josh Scotch Eggs. For gatherings, see shareables like the Ploughman's Nachos, Cheesy Kimchi Toastie or Supercharged Baba Ganoush. Dishes like the Phyllo Snake Bake or Double Corn Salad are rich in texture and whimsy (popcorn! on a salad!), destined to delight both kids and adults.
Where Oliver calls for any ingredients not strictly vegetarian, such as Parmesan cheese (which includes animal rennet) or Worcestershire sauce (anchovies), he suggests alternatives. He also offers tips about different fats, dairy alternatives, strategies for stocking a kitchen and notes on how to understand the nutritional guidelines included. Of the recipes in Ultimate Veg, 70% adhere to health guidelines provided within. The remainder are suited for occasional indulgence. As Oliver says, "Let your hair down and have a veg party!" --Katie Weed, freelance writer and reviewer