Welcoming Elijah: A Passover Tale with a Tail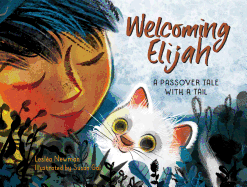 Just as Jewish families open their doors for the prophet Elijah, Welcoming Elijah opens the Seder ritual and invites readers into the festivities. This heartwarming tale of a young boy and a tiny, stray kitten plays out entirely during the traditional meal as the story of the Exodus is retold and celebrated.
Lesléa Newman's (Gittel's Journey) poetic text alternates between the boy's perspective and that of the feline: "Inside, the boy drank grape juice./ Outside, the kitten lapped at a puddle." Inside, readers are engaged with the customs of a Jewish Seder, like filling Elijah's cup, dipping parsley into salt water and singing (the activities are discussed further in an author's note). Outside, the kitten mewls and swings its "skinny tail." Susan Gal's (Bella's Fall Coat illustrator) atmospheric illustrations reinforce the contrasting viewpoints: the child bathed in light and surrounded by family, the cat alone in the dark. This variance, paired with foreshadowing in the early pages--"Tonight would be different/ from all other nights./ The boy knew this./ The kitten did, too"--develops an intriguingly suspenseful tone. Gal's digital collage, charcoal and ink illustrations switch between hot and cool palettes, creating a sense of emotional warmth. Her superb use of line gives a fluidity to the art as well as a tactile impression of texture--readers will likely want to cuddle the furry white kitten with the silky pink ears. Meanwhile, anticipation builds for the moment the parallel paths of boy and kitten veer to intersect.
Together Newman and Gal immerse their audience in the beauty and joy of the Jewish service. This delightful, captivating Passover narrative can be appreciated by readers of any faith. --Jen Forbus, freelancer