The Kill Club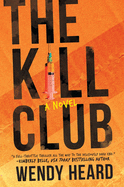 When good people with few resources are put in impossible situations that threaten their lives, what do they do? In Wendy Heard's riveting thriller, they join The Kill Club, in which members agree to murder the troublemakers in one another's lives, leaving no links to the people who need them dead.
Jazz does not want to join the club, even though she wants to extricate her diabetic younger brother, Joaquin, from his cruel adoptive mom, Carol. Jazz and Joaquin were separated after Jazz aged out of the foster system, and now she has no rights to him.
But the situation becomes urgent when Carol stops giving Joaquin his insulin and removes him from school, believing religion can heal his condition and teach him all he needs to know. Jazz finally accepts the kill club's deal for her to kill a stranger, so that a different stranger would murder Carol before the woman sends Joaquin into diabetic shock.
The author's note says, "This book is a love letter to the working-class Los Angeles that doesn't always make it into books and movies," and that love jumps off the page. Jazz lives in a tiny, old apartment and works at Trader Joe's, where she must handle blonde female customers with "the 'I'd like to speak to the manager' haircut." On the streets she encounters many homeless people; Heard ensures they are seen, not invisible. The author also says the abuse suffered by the members of the titular club are all true stories. This is not La La Land; its people are scrappy and vibrant and heroes of their own lives. --Elyse Dinh-McCrillis, blogger at Pop Culture Nerd