The Man Without Talent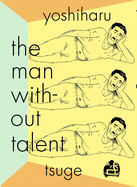 Originally published as a magazine serial from 1985 to 1986, Yoshiharu Tsuge's The Man Without Talent makes its English-language debut, translated by comics historian and professor Ryan Holmberg.
Tsuge's protagonist, Sukezō Sukegawa, has "been reduced to selling stones" in a makeshift tent along the Tama River after several unsuccessful career ventures, including "cartooning, selling used cameras, junk and antiques." Despite the wrath of his agitated wife and pathos of his neglected young son, Sukezō lingers on in an aimless existence: he recalls his past hopes and failures, visits other doomed businesses and their ineffective proprietors, and occasionally, half-heartedly, ill-fatedly attempts to improve his impoverished conditions. Drawn in stark black-and-white panels, Tsuge's frank narrative portrays an artist-in-decline, an anti-Bildungsroman that offers effective storytelling, enduring characters, poignant reflection and, most notably, gratifying art. Audiences who shut the book after the final panels would certainly leave Sukezō in his solipsistic reverie with satisfying closure.
But, yes, there's more. Presented in its original Japanese back-to-front reading format, the manga's final pages run into translator Holmberg's essay, which, by the standards of Western publishing's front-to-back order, could act as the book's introduction. Whether read before or after Tsuge's manga, Holmberg's "Where Is Yoshiharu Tsuge?" is an illuminating enhancement--biographically, historically, literally. Augmented with black-and-white photos of Tsuge and his family, as well as selected book covers and panels from Tsuge's other publications, Holmberg's piece firmly places Tsuge and The Man Without Talent into the modern graphic canon "as one of the premier examples of the 'I-novel' (shishōsetsu) [autobiographical fiction] in comics form." --Terry Hong, Smithsonian BookDragon