Treachery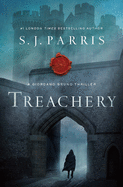 Fans of Umberto Eco or C.J. Sansom will love Treachery, the fourth entry in the Giordano Bruno series by S.J. Parris. Bruno, an excommunicated Italian monk, makes for a thoughtful and perspicacious witness to the events and attitudes of the Elizabethan era, commenting on the English aristocracy from the outside.
Sir Francis Drake is about to depart on another expedition against the Spanish, but then a man is found hanged in his cabin. Robert Dunne's death is problematic on several levels: if it's a suicide, his widow will have to forfeit their estates, but if it's murder, then Sir Francis must deal with the murderer before he sets out, in order to make sure there is no treachery afoot.
Hoping to finagle a position within Sir Francis's crew, Sir Philip Sidney, a favorite of Queen Elizabeth, travels to Plymouth with Bruno to investigate the situation. Bruno becomes convinced that Dunne's death was murder, especially when he hears a rumor connecting a mysterious manuscript, the death of a Spanish priest and the execution of a friend of Dunne. The manuscript, which is now in the hands of Sir Francis, seems to be desired by several nefarious people. Moreover, when Lady Drake and her cousin Lady Arden become involved in the discussion surrounding the manuscript's authenticity, the situation increasingly becomes both fraught and interesting for Bruno and Sidney.
Meticulously researched and well-written, Treachery is a fascinating historical mystery, sure to appeal to both historical fiction and mystery readers. --Jessica Howard, bookseller at Bookmans, Tucson, Ariz.