Normal: A Mother and Her Beautiful Son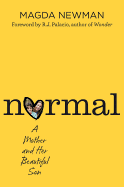 Magda Newman shared the same hope as every expectant mother: that her son would be born "normal." But when Nathaniel was diagnosed at birth with a severe form of Treacher Collins syndrome, a genetic condition affecting the development of the facial bones and tissues, she and her husband, Russel, were shattered.
Among his many challenges, Nathaniel was born without ears (the irony wasn't lost on Magda, a former concert pianist in her native Poland) and a blocked airway, requiring a permanent trach tube for him to breathe. Even with health insurance, Nathaniel's extensive medical needs and procedures (he would have 67 surgeries before turning 13) left the young couple with exorbitant bills, requiring the family to move in with relatives. Magda would also experience her own medical crisis; at 27, she was diagnosed with Hodgkin's lymphoma.
Normal includes several sections written by Nathaniel, who offers his candid (and often humorous) perspective on his life. He shares his special connection with R.J. Palacio, author of the popular novel Wonder, which features a boy with Treacher Collins. Palacio wrote Normal's foreword.
With a heartfelt and candid style, Magda and Nathaniel both show how they coped with the challenges, isolation and the public's initial--oftentimes insensitive--reaction to Nathaniel's appearance. "Discomfort is a natural human response," Magda writes. "If I, his mother, experienced it when I first saw him, why shouldn't other people? My goal was to help parents and children move past that moment as quickly as possible and see Nathaniel for who he was, just like we did." As readers do exactly that, Normal becomes extraordinary. --Melissa Firman, writer and editor at www.melissafirman.com