Small Days and Nights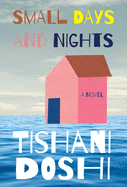 A woman, spiritually and emotionally adrift, uncovers family secrets and struggles to find her purpose in the perceptive and graceful novel Small Days and Nights by Tishani Doshi (Girls Are Coming Out of the Woods). Grace Marisola, desperate to give up an unsatisfying life in the U.S., returns to her childhood home in India after her mother's death to find that she's acquired both a secret house and an unknown older sister. This shock leads Grace, who longed for siblings as a child, to realize that "it is perfectly possible to exist in the world without being aware that someone close to you, someone of your flesh and blood, is moving about in the same air as you." This image of people simultaneously nearby and remote, close and yet unknowable, recurs throughout.
Grace's mother secretly owned a house on isolated property near the sea in Madras. This is where she hoped one day to retire with her oldest daughter, Lucia, who was born with Down syndrome and was moved to a residential facility as an infant. Her mother left no information behind, and Grace can barely process this news. Nevertheless, she believes that bringing Lucia to the Madras house, and living together as sisters and adults, will be a way for her to throw off the apathy that so far has marked her life.
Doshi is from Chennai, formerly known as Madras, and is a poet and dancer as well as novelist, garnering awards in both dance and writing. This novel, perfect for fans of Lauren Groff and Kate Atkinson, is awash in poetic language, sensory-rich scenes and fully formed characters. --Cindy Pauldine, bookseller, the river's end bookstore, Oswego, N.Y.