The Girl with the Louding Voice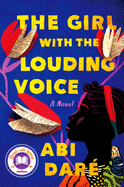 With her debut novel, The Girl with the Louding Voice, Abi Daré introduces Adunni, an unforgettable 14-year-old from the Nigerian village of Ikata, and her dream of becoming a teacher. Her recently deceased mother had told her, "Your schooling is your voice, child," and Adunni wants "a louding voice." But Papa cannot pay the community rent and sells his daughter to Morufu, the taxi driver, whose two other wives have not yet borne him a son.
Adunni's kindness and empathy toward others, in the face of such injustices, return to her, but it takes time. Morufu's first wife beats Adunni, but second wife Khadija befriends her. Khadija is pregnant; if this baby is not a boy, Morufu will kick her out. Adunni accompanies Khadija, she believes, to get medical help when the baby seems to be coming early. Instead, Adunni discovers en route that they are going to the village where the true father of Khadija's baby lives--a man who purportedly sires only sons. But Khadija dies of complications and Adunni fears she will be charged with murder, so she flees to the bustling city of Lagos to work for Big Madam, a wealthy woman who has made a fortune selling fabrics to the rich.
Through Adunni's narration, Daré explores the full scope of the young woman's widening world. Readers leave Adunni knowing that she has the intellectual resources and the guts to face whatever challenges she must in order to attain her goals. --Jennifer M. Brown, senior editor, Shelf Awareness