Gay Like Me: A Father Writes to His Son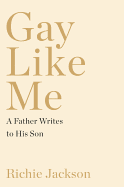 TV and Broadway producer Richie Jackson's memoir, Gay Like Me, is presented as a letter to his gay teenage son, but all young LGBTQ people will find it inspiring, uplifting and essential reading. "I have always felt lucky to be gay," writes Jackson. "Everything good that has happened to me is because I am gay." In reviewing his life, Jackson also shares gay history and offers context to his coming out at 18 in 1984, compared to his son's coming out three decades later. "I am scared for your safety and elated for what is in store for you," he writes.
The steady stream of gay representation and civil rights advancement that some take for granted is a very recent thing, Jackson cautions. When Jackson and actor BD Wong adopted their son in 2000, the New Yorkers had to do their surrogacy in California because it was the only state that would allow two men's names on a birth certificate. The couple split, after 15 years together, when their son was three. Jackson urges his son to find gay history (pointing him toward James Baldwin, Edmund White, Vito Russo and his mentor and friend Harvey Fierstein) and remain politically informed. He worries that his son's generation, many of whom have never been in the closet, are disadvantaged by having no gay protective reflex or gay guard. "We are legal, not safe," he warns.
Gay Like Me is an irresistible, breezy, heartfelt and upbeat mixture of memoir, fatherly advice and gay history 101. --Kevin Howell, independent reviewer and marketing consultant