Heathcliff Redux: A Novella and Stories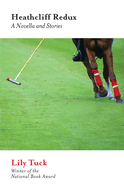 That the world can be unkind, particularly to women, isn't lost on National Book Award-winner Lily Tuck (The News from Paraguay; Sisters). With her signature unembellished prose, Tuck often writes about women whose prospects are limited by their historical era and choice of mate.
Likewise, the women of the stellar Heathcliff Redux: A Novella and Stories are vulnerable in ways that the men around them are not. In the title novella, set in 1963, the narrator recounts her affair with a man who is in business with her domineering husband. Readers will detect a note of wistfulness when she reflects, "Charlie and I started dating my freshman year in college; we got married after he graduated. I got pregnant right away with the twins and did not graduate." In "The Dead Swan," another woman abandoned pursuits that could have given her more of a foothold on her future. She showed promise as a photographer--one of her pictures was selected for a group exhibition. But it was at this exhibition that she met her husband, which has led to a life of substitute teaching and awaiting his return from prison. Also no better off for having thrown in her lot with a man--a cult leader--is the protagonist of "A Natural State," who starts receiving unnerving e-mails that force her to remember this aspect of her past.
The women of Heathcliff Redux aren't without agency: like their male counterparts, they take drugs, have affairs. But Tuck's stories' power imbalances, especially men's surpassing physical strength, keep the writer ever watchful, her sentences stark with circumspection and glistening with clarity. --Nell Beram, author and freelance writer