Hitting a Straight Lick with a Crooked Stick: Stories from the Harlem Renaissance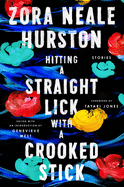 Zora Neale Hurston's (Their Eyes Were Watching God; Barracoon) impressive posthumous body of work continues to grow. Her previously published stories focused on the life of African Americans in the rural South. In Hitting a Straight Lick with a Crooked Stick, 21 short stories--including several "lost" pieces depicting the Great Migration to northern cities and Harlem's educated New Negro middle class--offer an updated perspective of Hurston's Harlem Renaissance-era cultural commentary.
"Almost a century later," writes editor Genevieve West in her introduction, "Hurston's contributions to American literary culture continue to inform the ways we talk about the Harlem Renaissance, Modernism, women's literature, folk literature and folklore, ethnography, migration fiction, and Southern literature." These stories, written in the 1920s and '30s, explore toxic masculinity and women's agency, urban vs. rural class representations, colorism/shadeism, identity politics and the intersectionality of race, class, age and gender in ways that remain relevant today.
And by using humor, folklore and her distinctive combination of delicate prose and vernacular speech, Hurston also has written thoroughly engaging slices-of-life, always centered on black characters, from a specific time. Consider "She dismounted with the gaudy lemon flavored culprit and advanced to the gate where Grandma stood glowering, switches in hand," juxtaposed next to, "You're gointuh ketchit f'um yo' haid to yo' heels m'lady. Jes' come in heah," from "Drenched in Light." To appreciate Hurston's stories fully, Tayari Jones (An American Marriage) recommends, in her foreword, "reading this work aloud, enjoying the feel of the words in your mouth, and the sound of English tightened and strummed like the strings of a banjo." --BrocheAroe Fabian, owner, River Dog Book Co., Beaver Dam, Wis.