Humble Pi: When Math Goes Wrong in the Real World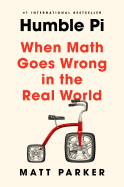 The average person has little use for--or interest in--applying numbers, statistics and mathematical reasoning to everyday life. Yet, "today's world is built on mathematics: computer programming, finance, engineering... it's all just math in different guises." Most human beings take math completely for granted--an exception being Matt Parker, a stand-up comedian, YouTube sensation and writer of all things calculative. Parker offers a thoroughly entertaining and engaging look at numerical and mathematical scenarios that have gone terribly awry, wreaking havoc in unexpected ways.
The stories in Humble Pi: When Math Goes Wrong in the Real World range from how the calendar and leap year came into being to air traffic control and NASA mishaps, computer glitches, and how human error and data entry gone bad can account for a myriad of numerical dilemmas--including election polling and financial problems. Some blunders are extraordinarily bizarre: the harrowing story of the Tacoma Narrows Bridge disaster in Washington State, and how a building--an architectural marvel--in London started to set the city ablaze. Others are more elementary: glitches in the program Excel, units of measurement and geometrical patterns.
Parker (Things to Make and Do in the Fourth Dimension) adds up his findings in an amusing, pragmatic way that keeps readers--even the math-averse--glued to the page. This book screams of clever, fun originality, including Parker numbering the pages of the book backwards. Readers should hope that Parker's prediction for the possibility of a Y2K-like scenario in the year 2038 will be rectified long before pandemonium strikes. --Kathleen Gerard, blogger at Reading Between the Lines