Naked Came the Florida Man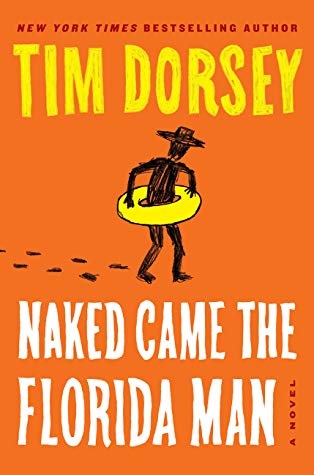 Tim Dorsey (No Sunscreen for the Dead) continues to deliver hilarious anarchy in his 23rd Serge Storms novel, Naked Came the Florida Man. Serge, driving his gold '69 Plymouth Satellite, makes a tour of Florida cemeteries. "Cemeteries rock!" he explains to his sidekick, Coleman. "They're portals to our roots with all the obvious history, not to mention upbeat landscaping and bitchin' statuary." The road trip frames the pair's increasingly outrageous antics. Serge says, "Nobody could ever write a better job description for me: Florida, no appointments and a tank of gas."
Serge has a well-known aversion to what he considers unethical behavior, leading to retribution that manages to be sociopathic and funny all at once; several miscreants along the way find themselves humiliated or worse. His personal code of honor, twisted as it is, covers all living things. Upon discovering a man who's harming a seagull, Serge mildly notes, "Seagulls are widely misunderstood creatures" before violently teaching the offender a lesson. "I guess I just can't understand the concept of torture," he concludes without any irony at all.
The most puzzling mystery they encounter--rumors of a monster haunting an abandoned sugar field--leads to small-town rodeos, high school football and, yes, a crazy Florida Man. The satisfying conclusion, where bad guys lose and good guys win, is a hallmark of the series. Both continuing and first-time readers looking for a humorous story with dark edges will find this a delightfully nihilistic adventure in the Sunshine State. --Cindy Pauldine, bookseller, the river's end bookstore, Oswego, N.Y.