The Hollows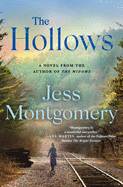 Set in 1926 southern Ohio and replete with the era's racism, sexism and anti-immigration sentiment, The Hollows is a fast-paced second installment in Jess Montgomery's Kinship historical mystery series.
In an eerie prologue, an elderly woman stumbles through the Appalachian woods by the light of a full moon, seeking the Moonvale Hollow Tunnel. The novel then moves ahead two hours, as Sheriff Lily Ross arrives to investigate the death of an unidentified woman found on the train tracks under the tunnel.
Lily is a conscientious sheriff, although some dismiss her as "a novelty," appointed to fill her late husband's term. (While The Hollows is a satisfying stand-alone, several plot threads originate in The Widows, book one of the series.) Running for re-election against an heir to the village founders and raising her two children is demanding, but Lily feels compelled to identify the woman and the truth about her death. Supporting her are her two best friends, wise yet timid Hildy, immersed in her own drama of a secret affair with a coal miner, and bold Marvena, an organizer for the United Mine Workers, whose other skills include making moonshine. Hildy and Marvena become integral to solving the case, while their individual stories enhance The Hollows.
Colorful Appalachian dialect and details of geography and nature add to a well-crafted mystery that takes place primarily over two weeks. The Immigration Act of 1924, which limited potential miners; the southern Ohio underground railroad stops and its Quaker supporters; and the Women's KKK movement of the 1920s emerge as factors in the case, making The Hollows dynamic historical fiction as well as a riveting mystery. --Cheryl Krocker McKeon, freelance reviewer and former bookseller