The Queen's Assassin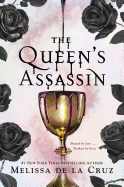 It is well known that Caledon Holt, a member of the Hearthstone Guild ("a society of assassins and spies") is the deadliest person in Renovia. His father, the king's assassin, attempted at the time of the king's death to safeguard Renovia's future by pledging his own life and that of his heir to the crown. Eighteen years later, Caledon is bound by this blood magic to be the queen's assassin.
Shadow is a longtime admirer of Cal; all she has ever wanted is to be a member of the Hearthstone Guild and help them fulfill their quest to retrieve the Deian Scrolls, "the fount of all magical history, information, practice and use." Instead, she is told to serve the crown as a lady of the court. Then, Cal is arrested for treason. Having witnessed the crime, Shadow knows Cal is innocent and seizes the opportunity to escape court life: she determines to save him and pose as his apprentice. Together, the two discover a conspiracy against the crown and work as a team to prevent impending war.
In The Queen's Assassin, Cal and Shadow's lives intertwine as they fight to save their home. Melissa de la Cruz uses the protagonists' alternating points of view to show how each character, though vastly different from one another, is a victim of fate--neither owns their own life even though being thrust into a war will ultimately determine their destinies. The prolific Melissa de la Cruz weaves an intricate fantasy filled with intrigue, magic and romance. --Tasneem Daud, blogger and booktuber, Nemo Reads