Give Us the Vote!: Over 200 Years of Fighting for the Ballot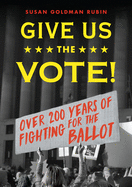 The history of voting rights in the United States has been one of constant struggle for many. Susan Goldman Rubin (Maya Lin) outlines this tumultuous evolution in a concise account that includes both those who fought heroically for a voice in their government and those who worked to keep them silent.
African Americans, Native Americans, women and young people have all taken stands--confronting bigotry, intimidation and violence--to demand an equal opportunity to vote. Rubin faithfully portrays how long and hard their fights were (and, in too many cases, continue to be). Suffragists protesting for women in 1919 were imprisoned and some even "lost their jobs." In 1965 when a group of peaceful protestors marched across the Edmund Pettus Bridge in Selma, Ala., "they faced Alabama state troopers and Sheriff Clark's posse carrying bullwhips and batons wrapped in barbed wire." But these groups persevered for the precious privilege of casting a ballot. Rubin quotes Marcia McMillan Edwards, a marcher in Selma, "It is the duty of every eligible person in the United States to vote. Too many have fought and died for everyone to have the right to vote."
Give Us the Vote! is an invaluable resource on the development of the U.S. voting process that offers a plethora of avenues for discussion on every page. In addition to Rubin's gripping narratives and powerful anecdotes, she includes a wealth of information in the book's back matter such as a timeline of voting rights in the U.S., sources and an index. A reminder of how priceless voting is, Give Us the Vote! displays how vital it is to protect the right from those determined to suppress it. --Jen Forbus, freelancer