Olympic Pride, American Prejudice: The Untold Story of 18 African Americans Who Defied Jim Crow and Adolf Hitler to Compete in the 1936 Berlin Olympics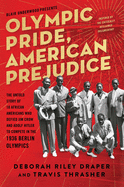 Jesse Owens's performance on the track at the 1936 Berlin Olympics is now legendary, but lesser known are the stories of the other 17 black athletes from the U.S. who competed at those games. The 16 men and two women whom the Nazi newspapers referred to as America's "black auxiliary" had a far-reaching impact on the face of international sports, but the mainstream of history forgot most of them.
In Olympic Pride, American Prejudice, Deborah Riley Draper, Blair Underwood and Travis Thrasher focus on five track athletes--Tidye Pickett, Louise Stokes, Mack Robinson, Archie Williams and Ralph Metcalfe. This history showcases their dual awareness, both as athletes competing against each other and, perhaps more importantly, as black athletes representing a country that did not fully consider them human and facing down white supremacy globally. They knew that no amount of medals won abroad would make the segregation waiting for them at home disappear. The book also demonstrates how different each of their experiences of overcoming the odds was. Particularly in the case of the women, being better than the rest of the field was not always enough in the face of prejudice. Nevertheless, even when robbed of their chances to compete, their presence was enough to push back against racism and indicate that times would eventually change.
In the words of Tidye Pickett, "Politics and sports, sports and politics, they've always gone together." Ultimately this powerful volume reminds readers how true that statement is. By reflecting on this pivotal point in history, it helps to show how much progress is yet to be made. --Michelle Anya Anjirbag, freelance reviewer