Rediscover: The Boys of Summer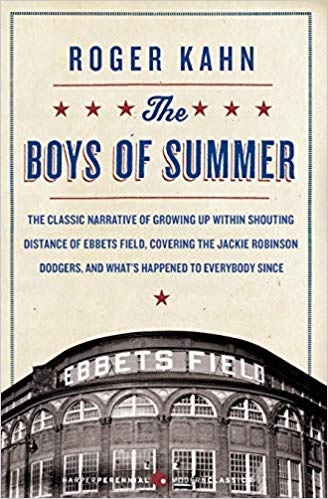 The timing of this sad tribute seems appropriate: this week marks the unofficial start of baseball season as Major League pitchers and catchers report for spring training. Last week, Roger Kahn, author of one of baseball's best-known books,
The Boys of Summer
(1972), died at age 92. As a young reporter for the
New York Herald Tribune
, Kahn covered Brooklyn Dodgers games during the 1952-53 seasons.
The Boys of Summer
chronicles Kahn's time with the team, the run-up to the Dodgers' 1955 World Series win and beyond, including later lives of the players. The book is as much memoir as sports history, focusing on Kahn's relationship with his father and their shared enthusiasm for the Dodgers. In 2002,
Sports Illustrated
ranked
The Boys of Summer
number two on "The Top 100 Sports Books of All Time." It has sold three million copies over the course of 90 printings.
Kahn was also the author of
A Season in the Sun
(1977),
Joe & Marilyn: A Memory of Love
(1986),
The Era: 1947-1957, When the Yankees, the Giants, and the Dodgers Ruled the World
(1993),
A Flame of Pure Fire: Jack Dempsey and The Roaring Twenties
(1999),
Men: Reggie Jackson, George Steinbrenner, Billy Martin, and the Yankees' Miraculous Finish in 1978
(2002),
Into My Own: The Remarkable People and Events That Shaped a Life
(2006) and
Rickey & Robinson: The True, Untold Story of the Integration of Baseball
(2014).
The Boys of Summer
was last published in 2006 by Harper Perennial Modern Classics ($17.99, 9780060883966). --
Tobias Mutter