St. Francis Society for Wayward Pets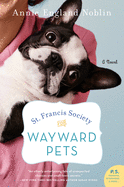 In one day, 36-year-old Seattle sportswriter Maeve "Mae" Stephens is laid off from her newspaper job, learns that her boyfriend (a left fielder for the Mariners) is cheating on her, and gets mugged for $32 in her wallet. No sooner does down-on-her-luck Mae move in with her parents (who lovingly adopted her as a baby) when she receives a phone call informing her that her birth mother, Annabelle, has died in a freak accident. An old friend of Annabelle invites Mae to attend the funeral in the small town of Timber Creek.
For years, Mae wrote Annabelle letters, which were returned to her unread. But with life at a standstill, Mae sets off for Timber Creek and learns she is the beneficiary of Annabelle's worldly possessions, including her house, an old VW and a moody cat. When a wayward bulldog is found chained to the front porch, Mae extends her stay. She's befriended by curious townsfolk, including a handsome but blocked writer and a group of women as tight-knit as the colorful sweaters they craft to keep local animals warm. Is there more than meets the eye to the idyllic town--and to the story of Annabelle's life?
As Mae learns more about the woman who gave her up and why, she also discovers herself--who she is and what she wants out of life. Annie England Noblin (The Sisters Hemingway, Pupcakes) spins a poignant, heartwarming story about secrets and lies, strangers and lovers. --Kathleen Gerard, blogger at Reading Between the Lines