All the Ways We Said Goodbye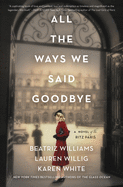 The powerhouse historical fiction triumvirate of Beatriz Williams, Lauren Willig and Karen White (The Glass Ocean) offers a romantic, adventurous multi-period collaboration that sees three formidable women's lives forever changed, set against the opulent backdrop of the Paris Ritz Hotel.
In 1964, Barbara "Babs" Langford receives a letter at her Devonshire home from U.S. citizen Andrew Bowdoin, whose father served with her late husband, Kit, in World War II. The letter asks her to come to the Paris Ritz and help investigate the truth about a female French Resistance operative who worked closely with Kit. In 1914, spirited young noblewoman Aurélie de Courcelles returns to her ancestral home just as German forces arrive to occupy it. Against her better judgment, she finds herself falling for a young German soldier she met previously at her mother's salon at the Ritz. In 1942 Nazi-occupied Paris, housewife Marguerite "Daisy" Villon passes information gleaned from her collaborator husband to the Resistance at the urging of her grandmother, who raised her at the Ritz. During this dangerous undertaking, she comes to love a British agent and uncovers a life-altering family secret.
Filled with hopeless passion and brave deeds in the face of evil, All the Ways We Said Goodbye twines together three heart-pounding stories of feminine courage and even adds a soupçon of Joan of Arc. Though its secrets are easily guessed, this rewarding journey of intra-era connections will charm historical fiction readers and Team W's fans. --Jaclyn Fulwood, blogger at Infinite Reads