The Body Under the Piano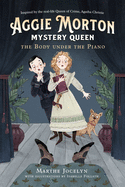 A wannabe sleuth, a new friend, a despised neighbor and a confounding murder splendidly combine in this novel based on the imagined childhood of Agatha Christie.
"I will tell you first about making a new friend and save the dead body for later. This follows the traditional rules of storytelling--lull the reader with pleasant scenery and lively dialogue, introduce a few appealing characters, and then--aha!--discover a corpse!" It's 1902, and 12-year-old Aggie Morton lives in a small coastal English town. She, her mother and her grandmother are all in mourning, having recently lost Aggie's father, and Aggie spends much of her time roaming free. It's a lonely existence, and so Aggie is terribly excited when she meets Hector Perot, a tidy, self-restrained Belgian boy and immigrant who is staying at the vicarage. Perot proves himself a great friend and a sharp mind when Aggie makes the ghastly discovery of--aha!--Irma Eversham's body. Certainly many had expressed deep dislike for the woman, but who would go so far as to kill her? Aggie and Hector are on the case.
Aggie's first-person narration includes all the trappings of an Edwardian childhood expressed with a contemporary sense of humor and mostly modern sensibilities. Marthe Jocelyn (Mable Riley) makes Aggie a wholly likable protagonist who, though quick-witted and opinionated, is often too shy to speak around others. Isabelle Follath's gray-scale, charmingly stylized illustrations perfectly match the text in taking something from the early 20th century and giving it a 21st-century twist. Heartfelt, funny and suspenseful, The Body Under the Piano is an excellent beginning to what is sure to be a pleasantly gruesome series. --Siân Gaetano, children's and YA editor, Shelf Awareness