As Needed for Pain: A Memoir of Addiction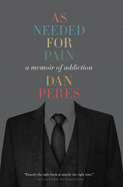 As Needed for Pain is exactly what it professes to be: an addiction memoir. The story that its author, Dan Peres, tells is not especially unusual in its shape; its narrative of a progressively debilitating addiction, its devastating consequences and the narrator's eventual redemption has familiar contours. But it's an important story because it gives readers a frank and unsparing look into how wealth and privilege can feed the flames of addiction (and, later, make recovery more accessible).
In the 1990s and early 2000s, Peres appeared to be on top. He was a New York media insider with a succession of plum jobs at top fashion magazines. He had celebrity friends, a luxurious lifestyle and regularly attended swanky parties and international fashion shows. But none of this mattered much to him because he was also in the grip of an all-consuming opioid addiction. His days were defined by counting pills, taking pills and going to great, dangerous, deceitful lengths to obtain pills. Somewhat impressively (if disturbingly), he managed to conceal his rapidly progressing addiction from his family, his colleagues and a cadre of well-intentioned doctors for many years before, finally, spiraling far enough downward to bounce back to health.
At times, Peres's story is frustrating, because it's hard to imagine anyone but an affluent white man essentially sleep-walking (and, on one notable occasion, nodding out) to incredible career heights. However, his story underscores the fact that no one is safe from addiction, and that story is still worth telling. As a bonus, Peres's story also includes some fun celebrity gossip from the pre-recession media heyday. --Hannah Calkins, writer and editor in Indianapolis