Spirit Run: A 6,000-Mile Marathon Through North America's Stolen Land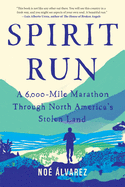 The son of Mexican immigrants, Noé Álvarez grew up poor in eastern Washington, watching his parents work menial jobs for pitifully low wages. He knew college was his best shot at getting out, but once there he felt aimless and overwhelmed. A chance encounter at a student conference led him to join the Peace and Dignity Journeys (PDJ), a group that conducts ceremonial runs throughout North America, in a quest to honor indigenous peoples and their stories. Irresistibly drawn to the run and its mission, Álvarez spent several months with the PDJ group, traveling roughly 6,000 miles from British Columbia to Guatemala. His memoir, Spirit Run, chronicles his physical and emotional journey and brings attention to the traumas the PDJ runs are seeking to confront.
Álvarez writes movingly of his mother's endless shifts at the apple-packing plant and his father's backbreaking labor in fruit picking and in construction. Both originally undocumented, his parents achieved their citizenship and fed their children, but at great cost to themselves. "I run to find fragments of my own parents sprinkled over the earth," Álvarez writes of a run through a forest in British Columbia. He runs with the weight of "their stories of hope and desperation" always in his mind, hoping to arrive at clarity, redemption, even peace.
Running, Álvarez begins to learn, is "a sacred motion," a "rhythm connecting me to the wind, the water, the woods" that forces him to deal with the highs and lows of his family's migration story. Spirit Run is a complex, thought-provoking journey, shot through with flashes of glory and hope. --Katie Noah Gibson, blogger at Cakes, Tea and Dreams