The Autobiography of Alice B. Toklas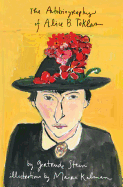 With a text first published in 1933, this illustrated version of Gertrude Stein's The Autobiography of Alice B. Toklas transports readers to early 20th-century Paris and the birth of modernism in painting and literature. Artist Maira Kalman's (And the Pursuit of Happiness) lustrous images bring this classic to life. Kalman is a renowned fine artist who has illustrated other classic works, notably William Strunk and E.B. White's The Elements of Style. Here she captures the intricacies and material culture of Parisian salon life.
Stein wrote the "autobiography" of her life partner, Toklas, by imitating her plainspoken, matter-of-fact voice. Actually a biography of Toklas and autobiography of Stein herself, the book focuses on the couple's time living in Paris before and after World War I. It was a magical time of modern innovation in technology and the arts.
Rendered in broad, colorful strokes--themselves reminiscent of the artistic period--Kalman's portraits of now-famous artists and writers are lively and evocative, including Picasso and his partner Fernande, the Matisses and the Cézannes, Hemingway, William James and, of course, Stein and Toklas, among many others. Some illustrations portray Stein's famous home, the salon, the kitchen, all quaint yet lush interiors, while others capture the greater neighborhood, city and even countryside. The pictures are captioned with Stein's handwritten words, adding a certain charm and glamour to the story.
The Autobiography of Alice B. Toklas reads like a love letter to a bygone era. This illustrated version will appeal to fans of art history and literature. It's a testament to writers and artists who changed the world. --Scott Neuffer, writer, poet, editor of trampset