The Lonely Heart of Maybelle Lane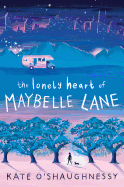 In Kate O'Shaughnessy's sensitive first novel, a wistful young girl hatches a plan to win her father's love and respect. Step one: find a way to meet him.
All 11-year-old Maybelle Lane has ever known of her daddy is a voicemail on her musician momma's old flip phone. Then she recognizes his "deep, night-sky purr of a voice" on the radio and learns he's a DJ in Nashville. Momma begs her to forget him, but Maybelle listens faithfully. When her daddy announces a singing competition, Maybelle enters, even though her anxiety makes performing nearly impossible. Luckily, Momma's out of town for a gig and Maybelle's neighbor Mrs. Boggs, a grieving widow and the "strictest teacher in our parish," is willing to drive the girl from Louisiana to Tennessee. To Maybelle's dismay, Tommy O'Brien, a bruise-faced boy her age from their trailer court, stows away in the RV. While Maybelle anticipates her daddy healing the loneliness Momma can't quite erase, her growing relationships with misunderstood Tommy and strong, good-hearted Mrs. Boggs begin filling up some of her heart's empty spaces.
Packed with the triumphs, mishaps and self-discovery essential to a great road trip story, Maybelle's mission to Nashville takes readers on a quest that emphasizes the importance of found family and hope. O'Shaughnessy keeps the resolution touchingly and realistically imperfect while lightening each central character's burdens through the support of the others. Lonely or not, Maybelle Lane's heart beats with grace and courage. --Jaclyn Fulwood, youth services manager at Main Branch, Dayton Metro Library