The Other People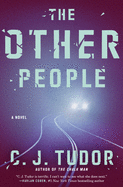 C.J. Tudor takes the revenge concept of an eye for an eye to stratospheric new heights of darkness in her exciting thriller mixed with a dash of the paranormal, The Other People.
While Gabe Forman is stuck in traffic, late for his daughter's birthday party, he sees a little girl pop up in the rear window of the car in front of him. She appears to be yelling for help, but a hand pulls her back down out of sight. And the girl looks just like his daughter, Izzy.
Traffic begins to flow again, and the car pulls away. Gabe gives chase, but the car soon loses him. He pulls over to call home to check on Izzy--and the police answer his landline. Gabe's wife, Jenny, and Izzy have been murdered. Jenny's parents identify the mutilated bodies and the funerals happen too quickly for Gabe to see for himself. No one believes the girl he saw in the car could have been Izzy.
One night, Gabe drives to a bridge to commit suicide, but is stopped by a mysterious man called the Samaritan. The man helps Gabe unravel the mystery of what happened to Izzy, but it's clear the Samaritan has his own agenda.
Tudor's (The Chalk Man; The Hiding Place) prose induces a jaw drop at the end of every chapter. The Other People is filled with dark, twisted, creepy moments, illuminating how far some people are willing to go to exact revenge, and how much they will have to pay for that justice. --Paul Dinh-McCrillis, freelance reviewer